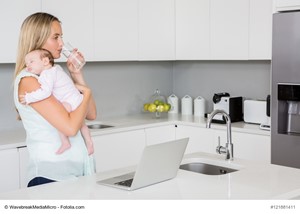 There are plenty of things to worry about around your home when you have kids. One of your top priorities should be safety for your kids. If you look closely, you'll find some hidden safety dangers around your home that should be addressed. The top culprits can be found described in detail below.
The Dishwasher
Your dishwasher is something that you probably use every single day. There are a few considerations that you need to make about the dishwasher when you have kids. First, the door should have a good locking mechanism. If the door to the dishwasher doesn't shut properly, all if takes is a little tap for the door to release and fall right on top of your child who is either walking or crawling around the house.
The other point to consider about a dishwasher is the actual contents of the dishwasher. Silverware, especially sharp objects, should be left pointing downward. This is in case the washer is left open and the child gets at it. You don't want sharp knives pointing upward that could cause an injury to your child. The detergent can also be a hazard to your child. Whether you are using pods, liquid detergent, or the powdered kind, all pose poison control risks and choking hazards to your kids. Keep the dishwasher closed and locked when it is not in use. Also, be sure to wipe down your dishwasher in case of any debris that's left from your detergent. 
Ovens And Ranges
If your range or oven is not installed properly it could cause serious harm to your kids. For safety, be sure that ranges have anti-tip brackets installed. This way if the child leans on the stove or climbs it, the unit will not fall on them, posing the risk of serious injury. 
Wall ovens should be secured as well. Make sure that the door of the oven locks and cannot fling open easily. When cooking, use the back burners in stead of the front. You should also keep the pot handles turned inward so they aren't as easy for kids to reach.  
The Nursery
The nursery is where your child will spend a lot of their time. First, you should start with the crib. The crib needs to be firm and nothing should be in the crib other than the mattress and a tightly fitted sheet around the mattress until the baby is old enough. The crib should also be sturdy. It's preferable to have a new crib for the baby as occasionally, hand me down cribs can be missing parts or have faced major amounts of wear and tear. The nursery should also be free from excessive cords and be equipped with window locks. This way, you'll be able to put your child to sleep with peace of mind.