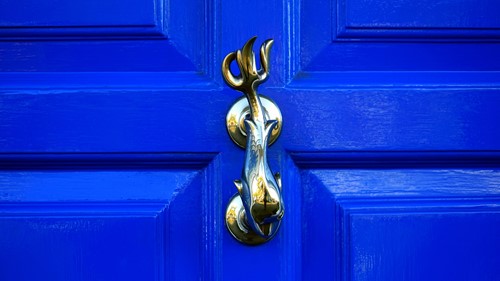 The color blue has exploded in popularity among homeowners and exterior designers. Many are choosing to repaint their homes in a wide variety of blue paint colors from pastel to darker dramatic hues. However, there are ways you can join in on the blue paint excitement without repainting your entire house. Here we'll go over some simple ways to add blue to your home exterior for a fresh and trendy look.
Front Door
Painting your front door is a popular way to refresh your entire home facade. If you're looking for a simple way to add blue into your exterior design, the front door is a great place to start. Painting your front door is a relatively easy DIY project you can accomplish in a weekend (weather permitting) or you can go for a completely new door in the shade of blue you prefer. If you're painting your existing door, don't forget to add a color-protecting primer to prevent the blue from fading.
Garage Door
Depending on the layout of your house, your garage door might make a big first impression. If you want to add blue to your house but are wary of painting the entire thing, you can get a lot of impact from a blue garage door. The best thing about painting or replacing a garage door is the amount of style options available. You will find something to match the architectural style of your home and the perfect blue to compliment it.
Window Shutters
Another simple DIY project to boost your curb appeal and add some color is to add faux window shutters. These shutters you can purchase in kits based on the size and shape of your windows. They attach without need for hinges or latches—they're just for show. Because decorative window shutters are so easy to work with, they make an excellent option for adding a pop of color to your home's exterior. Paint the shutters a shade of blue that will add contrast but also compliment the color scheme of the house and you'll notice an enormous difference in overall look.
Railings & Accents
You can also add color to your front porch if you have railings, pillars or other architectural design elements. If you don't want to paint the entire house blue but still want the aesthetic appeal, sticking to these features is a good option. Go for blue paint that will harmonize with your home's color scheme and make especially sure to find the right finish for the material you're painting. A bold blue railing on your front porch makes a colorful statement without the commitment of repainting the entire house.
Choosing the Best Blue
Every home color scheme is different, so it's hard to know which blue paint to pick. You don't have to commit to a new color for the entire house, but you will need to pick a color that has to look good alongside the rest of the house. So how to choose? One of the most important tips is to test paint colors outdoors in a variety of different lighting situations to see how the color will look at every hour of the day. You can also start with neutrals like navy or even a blue-tinted gray for options that work well with other paint colors. When in doubt, you can always ask a professional designer or paint expert for help in making the best choice.